Best Pizza in Beijing : Round 1
If you haven't noticed, The Pizza Wars are happening right now over at the beijinger and we just had the first batch of results come out today ( round 1).
General Manager Mike "admin" Wester asked me to fill in my picks in the brackets for round one last week and he posted his as well… So just for shit and giggles, Let's see how did we both managed in our predictions:
Admin's Picks: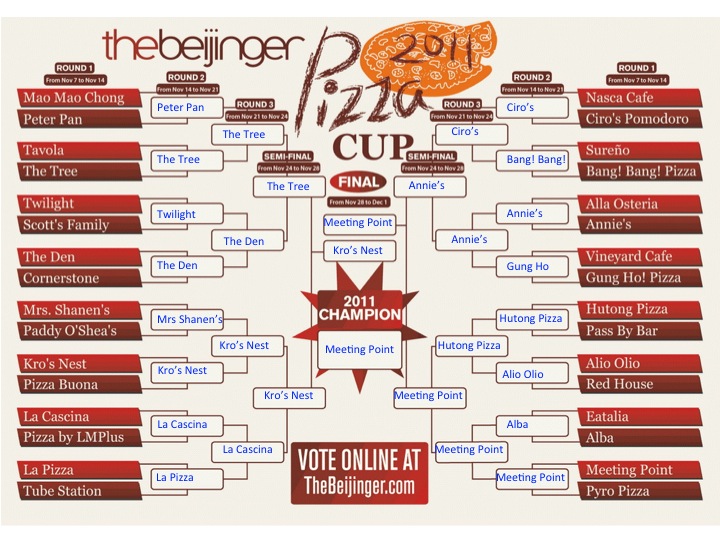 My Picks: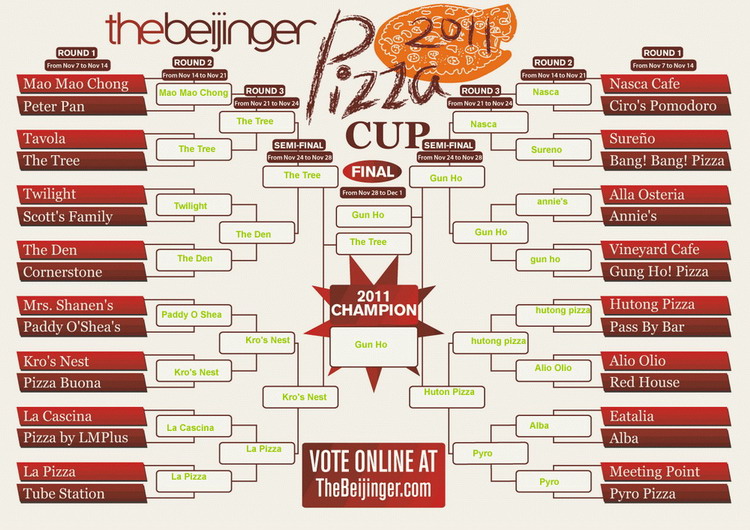 How did we do on Round 1 Results:
X = Wrong
✔ = Correct
Admin's result's on the left, mine on the right.
Mao Mao Chong defeats Peter Pan — X ✔
The Tree defeats Tavola — ✔ ✔
Scott's Family defeats Twilight — X X
The Den defeats Cornerstone — ✔ ✔
Paddy O'Shea's defeats Mrs Shanen's — X ✔
Kro's Nest beats Pizza Buona — ✔ ✔
Pizza by LMPlus beats La Cascina — X X
La Pizza beats Tube Station — ✔ ✔
Ciro's Pomodoro defeats Nasca — ✔ X
Sureno beats Bang! Bang! — X ✔
Annie's beats Alla Osteria — ✔ ✔
Gung Ho! Pizza defeats Vineyard Cafe — ✔ ✔
Hutong Pizza defeats Pass By Bar — ✔ ✔
Alio Olio defeats Red House — ✔ ✔
Eatalia defeats Alba — X X
Pyro Pizza defeats Meeting point — X ✔

12 out of 16 for me
10 out of 16 for Admin

I'm pleased that La Cascina put up a fight against LM!Plus… I've enjoyed their Pizza for years and they managed to stay under the radar for some reason… I need to head back over there soon again, it's been a while!
I'm still backing on GunHO to win it all but let's see what surprises next week brings. That second round fight between The Tree (overrated) and Mao Mao Chong (goood) will be intriguing.
I'll think about my round 2 predictions soon.